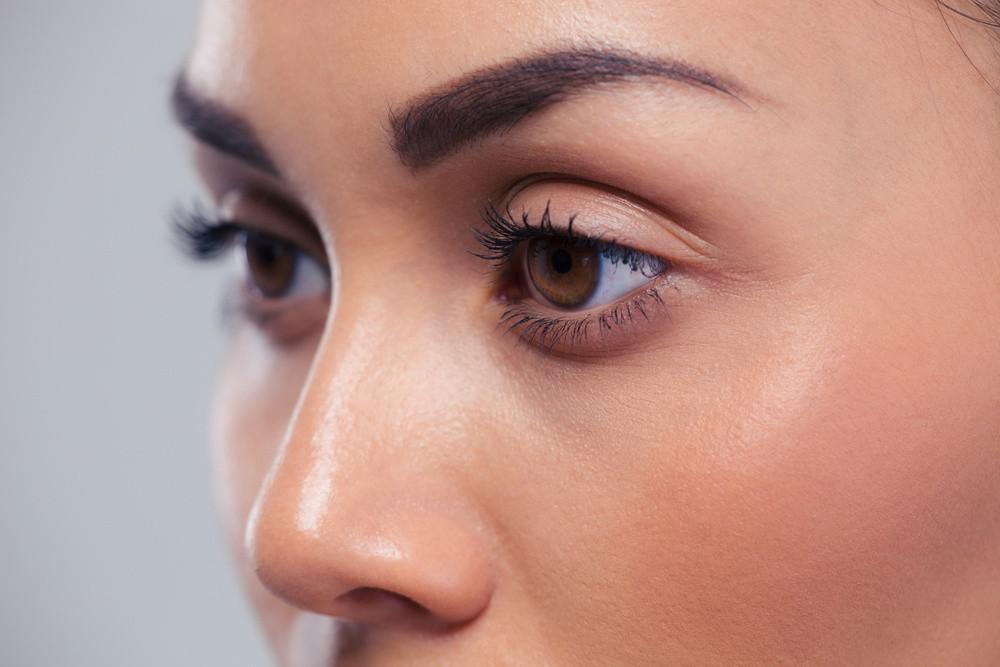 The eye area is one of the first places on the face to show signs of ageing. This is for a number of reasons. Firstly, the skin around the eyes is some of the thinnest we have, and secondly, well, just think about all the movements this area makes in a day/month/year. We express a lot with our eyes, the 'windows to the soul' and with blinking, frowning and even smiling, the area gets a lot of exercise.
Over time this, combined with ageing – things like a loss in volume and muscle tone – can have a detrimental effect, which can lead to an overall aged appearance. All that movement over time causes a number of changes in the face. The muscles under the skin lose their tone and as we age, eyelids can push forward a little, leading to a 'hooded' appearance while the loss of volume in the cheeks (caused by a depletion of collagen as we get older) gives a sunken space known as the tear trough. If that wasn't bad enough, the brows can begin to sink and descent, giving people a permanently cross expression!
However, all is not lost and there is much that can be done to revive the eye area to give it a fresher and more youthful appearance. It is possible to smooth and brighten, fill and lift – a really skilled surgeon will be able to suggest a custom plan for their patient, to address more than one concern if needed.
It may seem counterintuitive to use a very active treatment such as a peel on such a delicate area, but in fact peels can be very helpful. The correct type of peel, properly administered by a professional, can refresh the undereye area, reducing the appearance of fine lines and helping to restore a uniform skin tone.
Injectables are another effective way of reviving the general eye and forehead area. Botox can effectively smooth out deep expression lines; those heavy frown line that can develop between the eyebrows, crow's feet around the outer corners of eyes, or horizontal lines that develop across the forehead.
Dermal fillers are also an option and can be particularly good for dealing with a loss of volume around the eye area that can give a sunken, tired appearance. A good practitioner will be very
selective regarding where they use both fillers and Botox – this is very important as you want natural-looking results that enhance your appearance, rather than give you a different appearance. It is definitely a case of less is more!
For more severe cases, or to address issues with the upper or lower eye areas, there are a number of surgical procedures available. For hooded lids, upper eyelid surgery (also known as upper blepharoplasty) can be very effective. It's quite a straightforward procedure and is aimed at removing the excess skin on the eyelid to restore a brighter, more wide-eyed appearance. It is imperative that the surgeon has a good aesthetic eye, as what is left is as important as what is removed; the results must sit comfortably within the patient's face and work in harmony with their brows and other areas of the face.
An excess of fat around the lower eyelid can be common as we age – I see this a lot with my male patients here at the Blackrock Clinic. There is a procedure available to address this too, although it is more challenging than upper eyelid surgery. Lower eyelid blepharoplasty involves a more complicated surgery but can also be combined with other treatments such as the use of fillers or a procedure that uses the patient's own fat to augment the sunken appearance around the eyes (fat injection), to achieve the best results.
It's worth nothing that the area from the lower eyelid to the cheek, which is known as the lid- cheek junction, is an important aspect of this surgery. This area needs to be smooth with a good contour (you can see it more clearly in profile), so along with dealing with excessive fat and/or lax skin and muscle, the surgeon needs to ensure the lid-cheek junction is restored. Once again, a well-trained practitioner will be skilled enough to worth with an individual's face and current issues, to achieve the best possible results.
If you are considering a cosmetic procedure, whether it is non-surgical facial rejuvenation such as a peel, injectables or fillers, or a surgical procedure, we can advise on the best options for you.
Contact us to arrange a consultation.
Find out all you need to know about cosmetic procedures and the factors you need to consider in our free guide: Considerations Before Deciding on Cosmetic Surgery and Post-Treatment Care:
Download Mr. Chan's Guide to Cosmetic Surgery Considerations