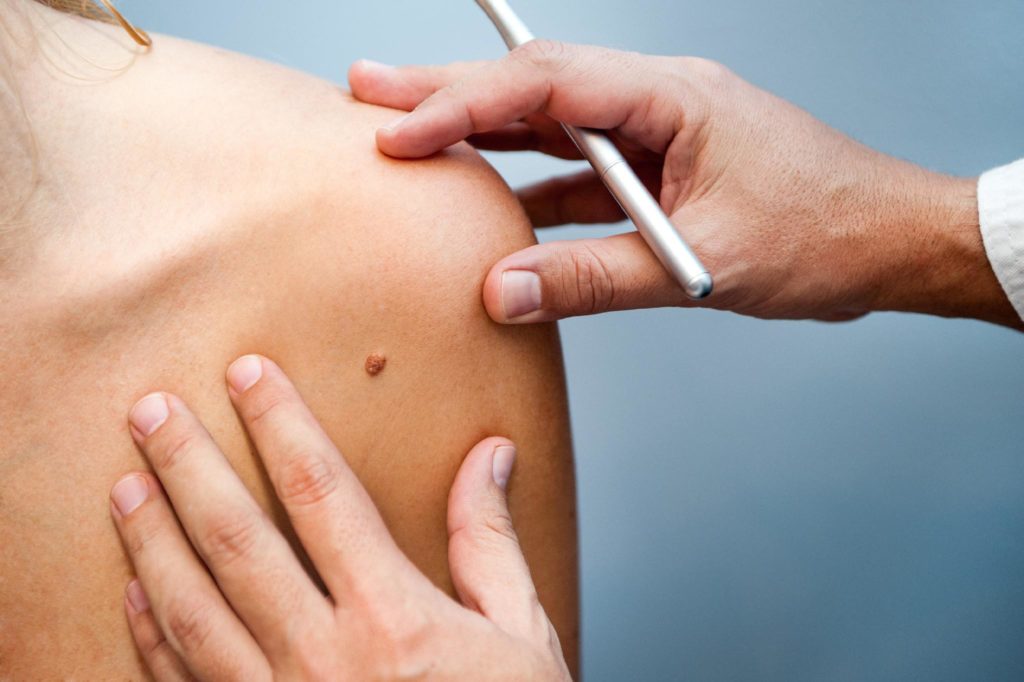 You may have heard someone refer to a 'stage' of skin cancer, or indeed any sort of cancer. What does this mean? In a nutshell, it refers to how big the cancer is and whether it has spread or not. It's an important scale, which helps your doctor or GP decide on what course of treatment is best for a patient's particular condition.
Often, when a patient is diagnosed with a melanoma, basal cell or squamous cell carcinoma, a doctor may carry out tests to discover which stage the cancer is at, although this is less common for non-melanoma cancers. Most basal cell cancers (BCC) don't need staging because it's very rare for them to spread. There is a slightly higher chance that squamous cell carcinomas might spread so a staging system might be used.
There are two systems commonly used by doctors to identify how far a cancer has progressed. One is the TNM (Tumour, Node, Metastases) system, which involves the below:
Tumour
This looks at the size of the tumour, its location and how far it has grown into the skin. A tumor can be sized on a scale from 1 to 4, with 4 being largest.
Node
This will show if the cancer has spread into the lymph nodes. This is assessed on a scale of 0 (meaning no lymph nodes are affected) to 3 (meaning many are affected).
Metastases
This looks at whether or not the cancer has spread into organs.
Doctors also use a number system to identify the stages of cancer, and this is perhaps what people are most familiar with. In general, most cancers have four stages, which I have outlined briefly below.
Unsurprisingly the severity and size of cancer increases with each number. This also illustrates how important early diagnosis is. It is much better to be dealing with a cancer at Stage I than at Stage 4. In the case of skin cancer, performing regular self-checks, knowing the signs of different types of skin cancer, going to a skin check clinic, and also going to your GP if you discover anything unusual are really essential. The sooner a cancer is identified and treated, the better.
Stage I
This tends to indicate that a cancer is small and hasn't spread beyond the organ it started in.
Stage II
This often means that, while the cancer has not spread to any of the surrounding tissue, it is larger than a Stage I cancer. However, in some cases it can mean the cancer has spread into nearby lymph nodes.
Stage III
At Stage III the cancer is generally quite large and may have started spreading into nearby tissues and into lymph nodes.
Stage IV
Also called secondary or metastatic cancer, at Stage IV things are quite serious and the cancer has spread into another, distant part of the body.
While the thought of skin cancer can cause concern, it is important to remember that early diagnosis and treatment can lead to a much better prognosis for the patient, and the advancements in care have led to significant improvements in the potential outcome for those affected.
If you are concerned about your skin or that of a loved one, arrange a consultation with me at my clinic, and download our free guide to sun protection:
Download Mr Chan's Guide to Proper Sunscreen Use